Incorporating the Washington DC Monuments into Your Wedding Portraits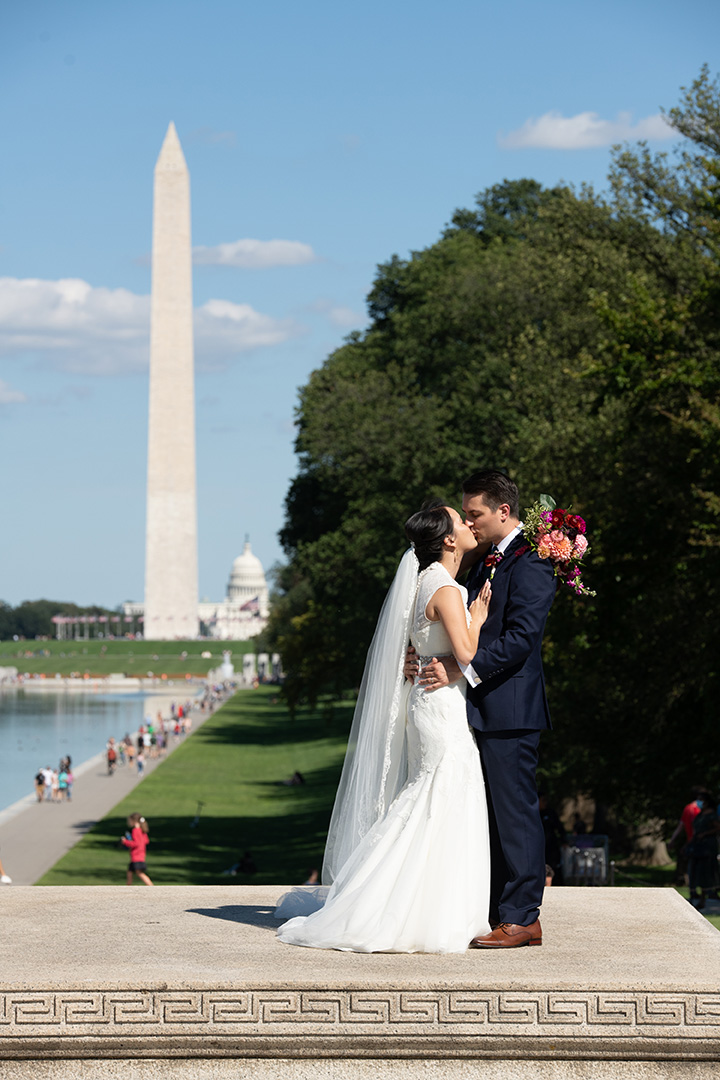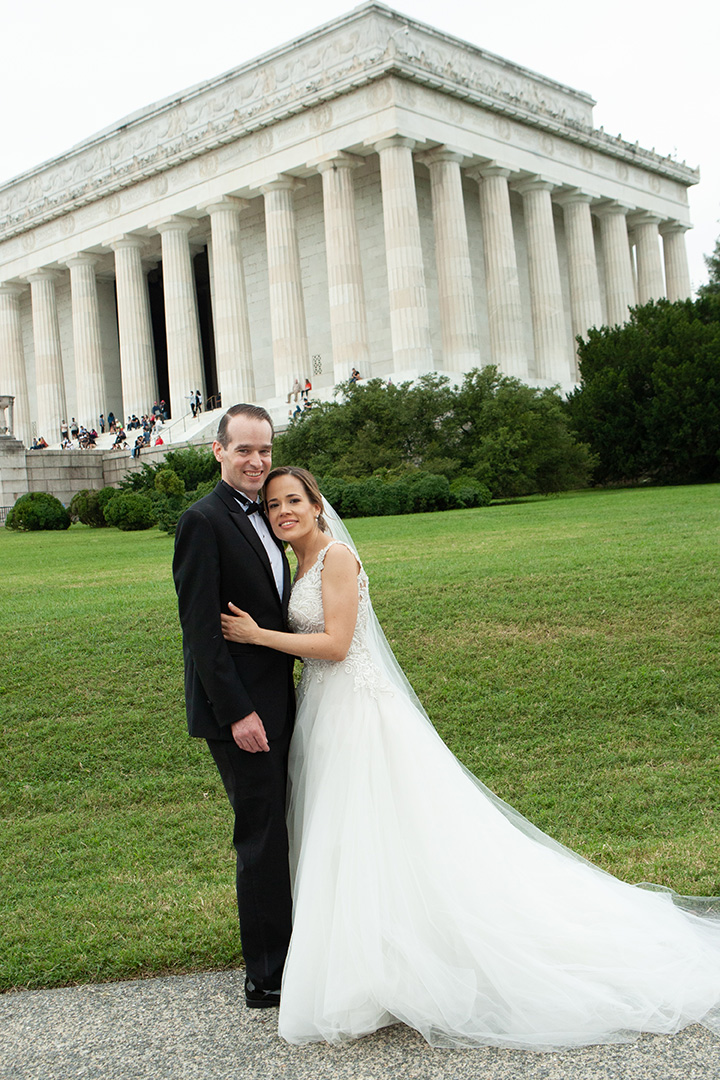 Complete the form to INSTANTLY view our prices & packages.
"*" indicates required fields
For many couples, hosting their weddings in Washington DC is a dream come true. Some couples travel from across the country — or even across the ocean — in order to host their wedding in the U.S. Capital. Local couples who have lived in Maryland, Virginia, or Baltimore throughout their entire lives appreciate the fact that they can say their vows in a cosmopolitan city that is full of history and life. 
Regardless of the wedding venue that you choose or the theme that you choose for your wedding, you should certainly consider having a portrait session in Washington DC that incorporate the monuments and memorials in the city. The best wedding photographers know how and when to take portraits at these iconic attractions, ensuring that you get the artistic and poignant portraits that you deserve. 
The Most Popular Washington DC Monuments for Wedding Portraits
While the many monuments and memorials that line the National Mall in Washington DC are commonly found in images in textbooks and in the background of vacation photos, these architectural marvels also make wonderful backdrops for wedding photography. Couples from around the world who host their weddings in Washington DC, Maryland, Virginia, and Baltimore opt to have a portrait session in front of some of the most iconic memorials.
The most popular monuments and memorials for wedding portraits include:
The Lincoln Memorial — When most people think of Washington DC monuments, the Lincoln Memorial is probably the first one that comes to mind. This is one of the most famous monuments in the world, and its white columns, as well as its elegant staircase, make for an idyllic wedding photo opportunity. The one downside to taking your wedding photos at the Lincoln Memorial is that there is almost always a constant throng of tourists climbing up and down the stairs. You and your wedding photographer will have to be flexible and creative when shooting here.

The Jefferson Memorial — The Jefferson Memorial is another favorite among couples who want to take their wedding portraits with the Washington DC monuments. It's pristine setting along the water gives this memorial a more romantic atmosphere, and there are many unique ways to incorporate this monument into a portrait. In addition, there are typically fewer tourists around the area, which makes it more appealing to couples who want their backgrounds to be clean, crisp, and free of unwanted intruders. However, if it is cherry blossom season, it is best to avoid this memorial all together, as this area is inundated with aspiring photographers and excitable tourists who want to capture the monument against the soft pink petals of the cherry blossom trees.

The Washington Monument — With its pristine white obelisk stretching toward the sky, the Washington Monument is an iconic option for your Washington DC wedding photos. In order to incorporate this skyline-defining monument into your images, you will want to work with your photographer to find a pretty spot where the monument can be seen from a distance. Attempting to take photographs at the base of the monument will not be easy, and it may not make for a very interesting background.
Another backdrop that you may want to consider is the U.S. Capitol. This building is not a monument, but it does make for a very stately and distinguished wedding portrait. The sheer size of the building ensures that there are fewer concentrations of tourists and professionals, which allows you and your wedding photographer more flexibility to capture the building during your wedding portrait session.
Logistics to Consider When Planning a Wedding Photography Session in Washington DC
There are a few important logistics to consider if you want your wedding photographer to take your portraits in front of the most famous Washington DC monuments. Here's what you need to know:
You need a permit. Many couples are not aware that the monuments and memorials along the National Mall are managed by the National Park Service, and the National Park Service requires a permit for professional photography sessions. Before you think about skipping this important step, be aware that NPS rangers are always on the lookout for photographers and couples who are trying to skirt the system.

You will want a transportation plan. Washington DC is a crowded and congested city, particularly near the National Mall. The best option is typically to secure some type of reliable transportation that will take you, your wedding photographers, and your bridal party to your preferred monuments and memorials.

You will want to consider parking availability. Some monuments are more difficult to access than others. Talk with your photographer and your transportation provider about the best plan for your wedding day.
The Best Time of Day for Washington DC Monument Wedding Photography
As you begin to plan your timeline for your wedding day, you may want to consider the best time to schedule your wedding portrait session along the National Mall. While most couples spend the early morning hours preparing for their wedding ceremony, Washington DC couples often opt to set out around sunrise in order to capture photographs with the monuments during the morning light and before the tourists arrive for the day. This is the most peaceful time of day in the city, and usually the best opportunity to take wedding portraits without interference. If early morning is not ideal, you can consider late afternoon photographers using the golden glow of the sun, but you will need to be prepared to work around tourists and crowds.
Couples in Maryland, Washington DC, Virginia, and Baltimore appreciate the timeless beauty of the monuments and memorials that can be found along the National Mall. The best wedding photographer in Washington DC will be able to capture candid, romantic portraits in front of all of the best monuments, allowing you to enjoy creative and unique images that showcase your love for one another against the backdrop of one of the most beautiful cities in the world.